The week in review [2017-03-04]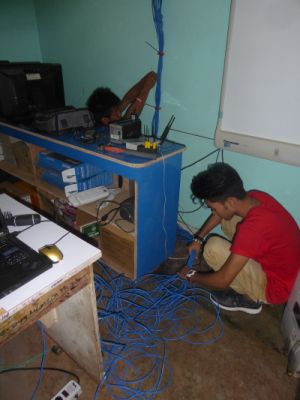 It's Saturday here, and we're enjoying a quiet day in the apartment catching up on fun tasks on our respective to-do lists.  Me, I'm updating a spreadsheet template that captures and graphs students' scores for reading comprehension and speed.  Neal is writing some Python code to automatically convert the Ubuntu 12.04 teacher accounts to work in the new 16.04 operating system.  It's a nice finale to a very hectic week for Reneal Team Philippines.
One highlight of the week is that our boys Rhog and Lloyd submitted their on-the-job training (OJT) journals this week to the university.  They are on the homestretch to graduation – March 29th!  Neal and I are disappointed that we will be back in the US before then, but we'll definitely be looking for the photos on Facebook.  These two guys have made incredible contributions to Reneal in the last 9 months, we are so proud of them!  We are hopeful that they will continue their work with Reneal part-time after they graduate; we will be very happy to have their continued support for the Reneal mission.
Monday and Tuesday we were at Consolacion National High School, working with the ever-energetic Ma'am Fritize Soronio.  Neal upgraded the system there from 12.04 to 16.04.  This was his second school to do this, and it's clear that a fresh start with 16.04 is preferable to a conversion from 12.04.  Those were very long days with many ups and downs.  He ended up with "homework" to write the code he's working on today to convert the teacher accounts.  He'll go back Tuesday to finish up.  We dropped by the mall on the way home Monday to pick up another box of network cable and more RAM for the Consolacion server.  The boys were with us Monday to make some hardware repairs, but Tuesday they were focused on meeting the deadline for submitting their journals.
Wednesday morning we headed in to Compostela National High School, our home school, to meet with new IT teacher Sir Ryan.  We truly enjoyed our time with him!  Neal showed him some things about the server, and the boys did some hardware repairs.  We had lunch there with the principal, Madam Selanoba, and then jumped on a bus to head to Jagobiao National High School in Mandaue City.  Again, there were a few hardware issues for the boys to puzzle through and Neal made a few minor updates to the system.  It was great to see Sir Isidro again, and we admired some of his students' outputs from the Gimp photo editing program.  On behalf of Reneal IEO, we also received a certificate of recognition from Jagobiao NHS!  On the way home, we made another stop at the mall, this time for a replacement motherboard and CPU for the Compostela Central server that was damaged by lightning.
Thursday Neal spent the day working in the apartment, rebuilding the Central server with the new parts.  The boys and I reported to Central.  Central recently received a donation of used computers from World Vision, so they needed to reconfigure the lab to fit in more units.  This necessitated pretty much an entire tear-down and rebuild of the lab, a very long day of work indeed.  It was wonderful to see order re-emerge from the chaos by the end of the day!  There is still work to be done though, and the boys (along with the server) will return next week to finish up things.
Friday brought another trip to Mandaue City, this to visit Tabok National High School.  Traffic was terrible, so we ended up stopping mid-trip to make yet another excursion to the mall.  We picked up a network switch for Central so the new World Vision computers can run on the Reneal system.  By the time we'd done that and had a snack, traffic was a bit better.  We finally got to Tabok at 11:30.  The boys recently finished a rewiring job there at Tabok, and they did a great job!  The boys stayed to install a wire between the server and the internet modem, and Neal and I headed back to Compostela.  I met with Ma'am Elvie, the English Department Head, to discuss revisions to the reading inventory template.
So… in the midst of all of this scurrying here and there, where are we at?  We've installed one brand new lab and made updates at 17 other labs (including two major operating system upgrades).  Neal has installed his Manage Classes program at each of these schools.  We have return visits planned for four of those schools to tie up loose ends, and we have schedules to visit three last schools to make minor updates.  So, in the grand scheme of things, we will not visit all 26 Reneal schools in Cebu this trip, but we will get to most of them.  Thanks to generous donors, we've been able to install over 300,000 Philippines pesos worth of computer equipment (about US$7500 if shipping costs are included too) – and we're not done yet!