Thanks Rotary! [2017-04-17]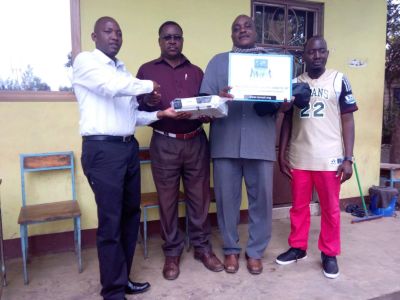 We reported a few weeks ago that the Danville/Sycamore Valley Rotary Club provided a generous grant to Reneal to purchase video projectors for three of our high-performing secondary schools in Tanzania.  We are excited to send out an update that two of the three projectors have already been installed, with the third installation scheduled for this week!  THANK SO MUCH, DSV ROTARY!  This is a long-standing dream, finally fulfilled!
Thanks to the efforts of David Nyangaka, Reneal School Liaison in Arusha Tanzania, projectors are securely in place at Mwandet Secondary School and Enyoito Secondary School.  The students are back from Easter break this week, and everything is ready to go for them to use this wonderful new educational tool!  In spite of many delays and unpredictable power outages, David persevered to make this happen.  Soon the third school, Mlangarini Secondary School, will have their projector in place as well.
We look forward to visiting all ten Arusha schools with Reneal systems later this year when Neal and I head back to Tanzania.  We will be installing Reneal systems in two new schools as well.  We are also in the midst of writing a joint MOU with The School Fund Tanzania to equip two schools in Iringa with Reneal systems.  Lots of details to wrangle yet, but it's going well and we are very thankful to be working with such an energetic organization!