Thanks Aboitiz! [2017-02-25]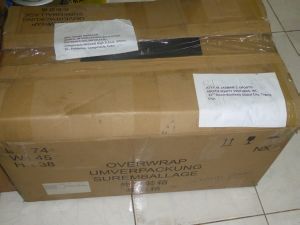 We are at the halfway point of this trip to Cebu, and we've taken a few days off to rest and recharge for the second half.  Our main task this week has been testing the computer hardware generously donated by Aboitiz Equity Ventures (http://aboitiz.com/site/about-us/aboitiz-equity-ventures).  We are so grateful to Aboitiz for both their support and their inspiration!  Through their own active corporate social responsibility work plus the Aboitiz Foundation, they are heroes in education, the environment, and disaster response here in the Philippines.  Reneal IEO is thrilled to be a small part of their philanthropy here.  A special thanks to Sir Rogie Abala, Aboitiz Equity Ventures IT wizard, former Aboitiz Foundation employee, and long-time friend, for helping to facilitate this wonderful gift to Reneal!
We were actually down to just two remaining boxes here in the apartment when the Aboitiz equipment arrived.  Happily it's a full apartment again!  I have been doing the usual incoming acceptance tests for any hardware donation to Reneal.  It's time-consuming but easy: checking specs, memory tests, disk scrubs, and then the final test of booting to the network.  It's been going really well, and about a third of the units are ready to be deployed.  The rest should be finished by Sunday night!  We are planning to deploy these computers in schools that are active users of the Reneal system but have very old computers.  This should help improve performance considerably.
Neal is working on some small updates to his systemCheck program.  Thanks to a problem reported by Sir Jezreel at Carmen NHS, we discovered a couple of cases that need to be added to the diagnostics.  We also have a sick server to try to nurse back to health – it looks like there might be some lightning damage, unfortunately.  Anyway, it's enough to keep us busy for the weekend.
Monday it's back to work.  We'll be reporting to Consolacion National High School, most likely for two days.  Neal will be upgrading the server operating system there to Xubuntu16.04.  We are excited to be visiting the very enthusiastic and energetic Ma'am Fritzie again!  Ma'am Fritzie is actually an English teacher but is fearless in her quest for knowledge about computers and IT.  It should be a fun couple of days with her and the students there!