Recharging [2017-10-31]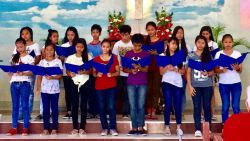 Now that we're between trips to Tanzania and the Philippines, Neal and I are in the midst of spending time with family.  The next big thing on the Reneal calendar is the Board of Directors meeting on November 11th.  We'll recap the 2017 Tanzania trip and lay plans for 2018 in both the Philippines and Tanzania. 
One of the key items on the Board meeting agenda is discussion of a proposed new scholarship program in Tanzania.  For many years now, Reneal has partnered with our church in Cebu (United Church of Christ in the Philippines, UCCP) to administer a scholarship program in the Philippines.  One batch has graduated and we now have fourteen Grade 9 and Grade 10 scholars in the program.
The Board will also be discussing two potential installations in the Philippines in 2018.  The other big question before the Board is long-term support of schools where use of the Reneal system has dwindled due to installation of computer systems through the formal Philippines Department of Education Computerization Program (DCP).  Most of the Reneal schools now have DCP systems as well.  More evaluation to follow…
The challenge for Tanzania in 2018 is resources.  Reneal is actively seeking corporate donations of laptops in order to provide computer labs to additional schools, replace old units in existing schools, increase seats at high-performing schools, and replace equipment that is no longer functioning at all schools.  We are so grateful for Polycom Corporation for making this year's work possible!
[Photos: Scholars in the Philippines]