Philippines 2017! [2017-02-04]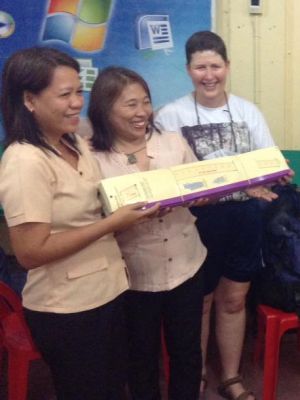 After much preparation, we're finally back in Cebu!  It's great to be here again, and we're off to a good start.  We finished off most of the work at Reneal's 26th school in the Philippines, Jugan National High School.  Next week we'll head to northern Cebu (a 3-4 hour trip from here) where some of those schools are located to make follow-up visits.
Thanks to the prior preparation done by Sir Jade and his OJTs, Rhog and Lloyd, the work at Jugan NHS went quickly.  Wednesday and Thursday, we got the server installed, dealt with some client computer glitches, and finished up the network cabling.  Yesterday Neal spent the morning showing Ma'am Alona, the IT teacher at Jugan, the various system administration tools and tasks.  We will return on February 16th for Reneal teacher orientation and to fix a few small software bugs.  Then… we'll turn it all over to Jugan's students and teachers!
Neal, Rhog, Lloyd and I will spend Monday through Friday next week up in Daanbantayan and Medellin in northern Cebu.  We'll be visiting most of the schools up there, making a few software updates (including Neal's new "Manage Classes program") and replacing dead hardware.  Two of the schools we'll visit had their Reneal system installations last fall, so we'll follow up to see how things are going and check if there have been any problems.  We began our work in northern Cebu in 2014 in response to Typhoon Haiyan that devastated the area in late 2013; Reneal is proud to now be supporting six schools up there.
Following the trip north, we'll be making the rounds of the other schools in this area.  We hope to visit most of them by the time we head back to the US in mid-March.  We are doing fewer installations this time than is typical.  Part of our activity on this trip is determining how well the Department of Education Computerization Program (DCP) is functioning.  DCP computer systems are being installed widely in Cebu.  If successful, they effectively fulfill the Reneal mission.  So, we're in "wait and see" mode to see what the future brings here for Reneal.
One last happy note – Tuesday we visited Compostela National High School to deliver 23 sewing hip curves to the sewing teachers.  The hip curves were donated by one of my work colleagues who has made it her personal mission to give the sewing students the resources they need to learn their craft.  The smiles in the photo above say it all!