Homestretch [2017-09-24]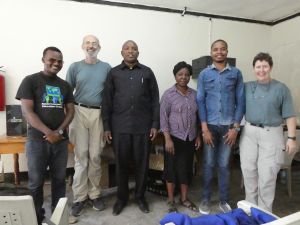 Another busy week here, finishing up the installation and training at Mateves Secondary School, visiting two of our existing Arusha school sites, and returning for a day to the United African Alliance Community Center (UAACC) for some server updates.  We were also very grateful for chance to meet with Arusha District Council Executive Director Dr. Charles Wilson Mahera.  The Arusha District Council has provided invaluable support to Reneal – it's safe to say that we wouldn't be here today without their enthusiastic and effective work on behalf of Reneal.
The work at Mateves went very well, and we had teacher orientation on Tuesday.  Our impressions of both of the new Arusha schools, Mateves and Nduruma, are quite positive.  Our only regret is the limited time we have with them.  There is so much to convey in the few days we have together with them about the Reneal system and its resources!  I am ever grateful for the communication capabilities that we have today to keep in touch and answer questions as they arise, no matter where Neal and I may be.  And having Reneal School Liaison David Nyangaka here means that we're never really that far away!
We made visits to Mlangarini Secondary School and Mukulat Secondary School on Thursday and Friday.  These visits are to make some small updates to the server and to replace any damaged equipment.  These two schools, installed in 2013, were expected to be our biggest challenge for the latter since their equipment has been in the schools for about 4 years now.  We were extremely pleased to see how carefully maintained everything was in spite of heavy student use.  We ended up replacing 4 computers at Mlangarini and 2 computers and two monitors at Mukulat.  THANKS SO MUCH to Polycom Corporation (www.polycom.com) for the laptop donation and Free Geek (www.freegeek.org) for the monitor donation!  As onerous as it was to get those ten boxes of equipment from our home in California all the way to Tanzania, it is definitely a thrill to get the labs back to full strength again!
Yesterday we visited UAACC.  They recently received a donation of ten desktop computers, so we went there to connect them up and get them talking to the server.  For various reasons it ended up being a longer day than expected, so we're thankful that we have a fairly quiet Sunday to relax before we get back to work Monday.
This week's major challenge ended up being the visit of Tanzania President Magufuli's visit to Arusha.  Both Thursday and Saturday, we got tangled up in road closures and traffic jams that resulted in late starts at both Mlangarini and UAACC.  While no doubt it was a great honor for Arusha to host President Magufuli, we are thankful he is back home again!
This coming week we hope to complete our visits to the existing Arusha schools.  Those four visits will take us through Thursday.  Friday we have a meeting scheduled with Asante Africa (www.asanteafrica.org), an NGO based in California that we've mentioned in prior blog posts.  We are excited to meet their local staff and find out what opportunities there might be to collaborate.  Friday evening is a thank you get-together with the Habari Node, Arusha Node Marie, and Arusha District Council folks that helped us so much.  Saturday we're planning a Super User meeting for all of the Arusha-area computer teachers.  So… the last week is definitely going to be a busy one, but so far we've stayed on track and are hopeful that we'll be able to complete our work here before the flight home on October 2nd. 
[Photos: installation at Mateves Secondary School and our visit to Mukulat Secondary School]