Burning the candle at both ends [2017-09-16]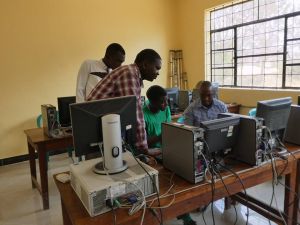 So much for my expectation of putting up a blog post while we were in Iringa!  It turned out to be an incredibly intense ten days of work and travel, and we immediately restarted the work in Arusha upon our return Thursday.  We are so grateful to have a quiet weekend at last to catch our breath and rest a little.
Where to start?  When I last posted, we were preparing for a Monday visit to Mwandet Secondary School.  We installed the Reneal system at Mwandet in 2014, and they have been active users.  Thanks to a generous donation from Polycom, we were able to add two additional client computers to their lab and replace one broken unit.  Neal made some small updates to their server, showed them how to block Instagram on the internet, and reviewed his new updateStudentList program with them.  They in turn shared with us a website that has a repository of old Tanzania National Examination papers.  Neal got those downloaded and we will put them in all of the servers here for practice use by the students and teachers.
The next day Neal and I traveled to Iringa from Arusha to begin the long-awaited collaboration with The School Fund Tanzania (www.theschoolfund.org).  We had decided to take the bus since we were concerned we might have a lot of gear.  The expected 10-hour ride on a bus leaving at 6 a.m. turned into a 13-hour ride that left closer to 7 a.m.  Riding the bus here is a little like meandering along on a train in the US… except there's no dining car and no restrooms!  While it was quite interesting to see the countryside, we were pretty worn down by the time we got to Iringa. 
We spent the next seven days straight installing Reneal servers at two schools in Iringa: Iringa Girls' School and Ebenezer Secondary School.  We were blessed to work with some incredibly dedicated, enthusiastic computer teachers.  We finished at each school with teacher orientation training.  We are hopeful that the students and teachers will find the resources on the Reneal server to be useful.
Thankfully we flew back instead of taking the bus again, with flights from Iringa to Dar es Salaam and then Dar es Salaam to Arusha.  We were back here in Arusha by Thursday afternoon, just in time to prepare the gear for our second Arusha installation at Mateves Secondary School yesterday.  Again, we were incredibly fortunately to be joined by professionals from Habari Node and Arusha Node Marie who did the network cabling.  They did an amazing job, and with the pre-arrival preparation completed by the school with the help of Reneal School Liaison David Nyangaka, we had all of the clients operational by the end of the day.  Awesome! 
We are spending this weekend trying to recover from the blast of work in the last two weeks.  We had a little Reneal shopping to do today, but otherwise we're just hunkering down in our room at the Lutheran Centre sitting silently in front of our computers playing catch-up.  Monday we'll be back to Mateves to work with new Super User Mr. Ben, and we tentatively plan to have teacher orientation on Tuesday.
Mateves Secondary School represents the end of the 2017 new installation work in Tanzania, for both Reneal labs and labs in which we supported The School Fund.  We will then complete visits to the six remaining existing Reneal labs here in Arusha.  This will hopefully be a more moderate work pace, and we're looking forward to renewing acquaintances from our prior years of work here.  The grand finale will be a gathering of the Arusha Super Users at the end of September.  We look forward to hearing their questions and ideas for how the Reneal system can best be used to support students and teachers here in Tanzania!
 [Photos: installations at Iringa Girls' School and Ebenezer Secondary School]