T minus 2 and counting [2017-01-27]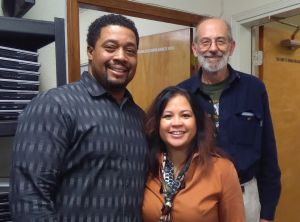 It's chaotic again here, trying to prepare for our trip to Cebu.  Neal is still putting finishing touches on his new class assignment management tool, and I'm trying to get things together for packing.  Sir Jade and the boys were at Jugan National High School this week, beginning the new installation.  Neal and I will also have a couple of meetings with other non-profits before we go.
The work that Sir Jade, Rhog, and Lloyd are doing at Jugan NHS will be a huge help to us.  They have set up the 14 desktop computers donated by Reneal, as well as replacing the old CRT monitors on the existing 10 computers with flat panel monitors.  The donations from Free Geek (www.freegeek.org) continue to make a huge difference to Reneal's work! 
The other big task is installing the network cables.  There must be a network cable from each client computer to the network switch.  It is much cheaper to buy the Cat5e cable and RJ45 connectors and make custom cables, but it is definitely more effort to measure out each cable, add the connectors, and then bundle and secure the cables so they look professional.  The guys do an excellent job, and we are excited to see the results of their work! 
When Neal and I arrive at Jugan next week, our tasks will be much easier due to the hard work already done.  Neal will set up the server and work with Ma'am Alona, the IT teacher, to show her how the system works.  I will help set up the teacher accounts and student list, and I'll work with Rhog and Lloyd to do final testing.  Neal is putting in the new operating system at Jugan (Xubuntu 16.04), so we'll do extra testing to make sure everything is working well.
Last Tuesday we visited the office of Uneed2 (www.uneed2.org) to meet co-founders Eric and Lynda Hawkins.  Wow, what an amazing non-profit organization!  They provide computer hardware training to high school students, as well as providing free computers to students in need.  We met some of the Uneed2 high school interns while we were there.  The place was humming, and we were very impressed and inspired by their work in serving the local community.  As we've seen in the Philippines as well, equipping kids with skills in technology gives them so many great opportunities!  And tomorrow we're having a follow-up meeting with Erna Grasz, founder of Asante Africa (www.asanteafrica.org).   Asante Africa has programs in Arusha, so we're hoping we can find some means of collaborating. 
Speaking of Arusha, Reneal School Liaison David Nyangaka has been busy visiting the Reneal schools there to check hardware status.  We plan to address equipment attrition during our visit later this year, so we're figuring out what we'll need to take.  The thought of taking all of those boxes again as airline baggage is intimidating, but it will be worth it to see the new installations and to see all labs operating at full capacity again!
Thankfully most of the equipment is already pre-positioned in Cebu.  We'll be taking one server, some spare power supplies provided by World Computer Exchange (www.worldcomputerexchange.org), and a big batch of sewing hip curve rulers to deliver to Compostela National High School, graciously donated by one of my co-workers who has a passion for supporting the students who are studying sewing.  Right now, these things are sitting in the midst of clothes and gifts and personal gear, waiting to be shoved into bags and boxes.  Sometime between now and Sunday morning, it will somehow all come together!
Neal's class assignment management tool is very cool.  It allows the teachers to set up classes and assignments, and then aggregate the student outputs into a single window for easy grading.  I am planning to make some training videos to use the tool, but it is really very straightforward.  The teachers are going to love it!
Blog Photos:
Jugan NHS computer lab set-up, photo by Lloyd Tuñacao
Neal with Eric and Lynda Hawkins, co-founders of Uneed2