Suroy2x Sugbo [2017-02-19]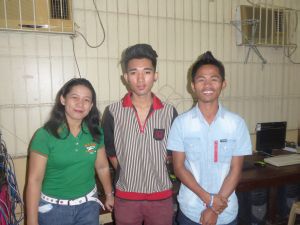 Suroy-suroy Sugbo…  It's an expression used frequently here in Cebu, and it is always accompanied by a smile.  Subgo is the traditional name of Cebu, and "suroy-suroy" means traveling around for pleasure.  And that's what we did this week – our work took us to five different towns as we visited several existing Reneal schools.
Our main goals for this trip to the Philippines are to make some minor updates to those systems with the Ubuntu 12.04 operating system, to make some updates and fixes for our three Xubuntu 16.04 beta test sites installed last fall, and to upgrade a couple of schools from 12.04 to 16.04.  As you might guess, there is a different level of effort for each of these!  Neal got to experience all three of these this last week, and we both ended up pretty tired by Friday.  We are also working to address any hardware attrition, so my focus is on making sure the right hardware is at the right place at the right time.
Reneal Team Philippines ended up spending time this week at Arcelo Memorial NHS (a 16.04 beta test site), Carmen NHS (a 16.04 beta test site with a second 12.04 installation that got upgraded to 16.04), Labogon NHS (two 12.04 systems), and Compostela NHS Day and Night (both 12.04).  We also returned to Jugan NHS for the official turn-over of the newly installed Reneal system and teacher orientation.  And our boys Rhog and Lloyd spent Wednesday working on their OJT journals and getting their graduation paperwork prepared.
It was a heavy load, but the work was made joyful by reunions with so many dear friends in the IT community here in Cebu.  We loved hearing the stories of how the teachers are using the computers to aid student learning.  In many schools, the computer labs are open for part of the day for students to do research for their classes in other subject areas.  Other schools offer specific IT training in applications like LibreOffice, the Gimp photo editor, the Pencil 2-D animation program, Scribus page layout, and so forth.  This is what Reneal is all about, and we are thrilled to see students building skills in computer use!
[Photos: Official turn-over ceremony at Jugan National High School, Visit to Labogon National High School]