Super Users [2017-10-02]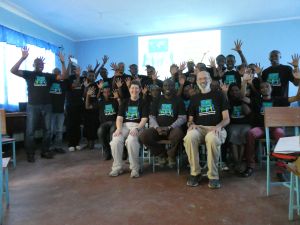 It's been a week that we expected to be busy, and it was.  Despite some twists and turns, we were able to complete the remaining four Reneal school visits, meet with Asante Africa, celebrate the invaluable contributions of Habari Node and Arusha Marie, have an absolutely fantastic Arusha Super User Review Training, and close out the week with a knowledge transfer session with Neal, Reneal School Liaison David Nyangaka, and Mr. Hezron Ipyana of Oldadai Secondary School.  Sunday we had just a few loose ends to tie up with the software we're leaving behind, and we transferred the boxes of items we're leaving behind to David.  It's hard to believe that we'll be heading home tonight!
First the school visits.  Monday we were at Mringa Secondary School.  They are very active, with both students and teachers using the computers.  They had a four units with dead CMOS batteries, so we showed them how to use F12 to get a boot list in order to boot from the network easily.  Neal made the updates to the server.  Not long before we were expecting to leave, they mentioned that they had about 10 desktop units and were wondering if they could be added to the lab.  Could they ever!  Evance and I immediately set to work testing them but ran out of time.  We agreed to return on Wednesday to complete that work. 
Tuesday we were at Oldadai Secondary School.  This is an up-and-coming school, and we were very impressed with how organized and clean the computer lab was.  Wednesday we did a divide-and-conquer.  Neal went to Ilkiding'a Secondary School, and Evance and I returned to Mringa.  Ilkiding'a was our big disappointment this visit.  The former computer teacher essentially destroyed the server by filling it with pirated videos and music.  Thankfully he is gone now, but to say the least we were very unhappy that students were deprived of the learning opportunities of the computer lab during his tenure.  We have some lessons learned from this incident.  Unfortunately it created a significant amount of unexpected work for Neal to rebuild the server, but the silver lining was that he had a chance to test out his server build process.
Thursday Evance and I headed to Ilboru Secondary School, joined by Mr. Hezron of Oldadai.  The Ilboru computer lab is being renovated right now, but we were able to test the clients individually.  We made quite a few minor repairs, and it was a great day working with these guys and with Ilboru Super User Mr. Thomas.  We now have 21 clients ready for the students when the computer lab is back up and running.  While Evance and I were at Ilboru, Neal was rebuilding the Ilkiding'a server.
Friday morning, Neal, Evance, David, and I visited the Arusha office of Asante Africa (www.asanteafrica.org), a California-based NGO.  Asante Africa's mission is supporting education, through scholarships, teacher trainings, and life skills programs for students.  We really enjoyed meeting their staff and hearing about their work.  It was a great opportunity to share the missions of Arusha Node Marie and Reneal IEO with them as well.  We look forward to exploring possible collaboration opportunities with them going forward!
Friday night was the long-awaited thank-you party with Habari Node, Arusha Node Marie, and the Arusha District Council.  It was a great celebration, with delicious food in the lovely garden at Uzunguni City Park restaurant.  Reneal awarded certificates to the simply amazing professionals who supported us in our work in Arusha in 2017: African Patrick Massawe, Jane Langoi, Prosista Andrew, Sebastian Kyagara, Living Macha, and Sarah Adamson [Habari Node]; Evance Kessy [Arusha Node Marie]; David Nyangaka and Frank Laiser [Arusha District Council].  These three groups and Reneal signed a collaboration agreement in 2014, and it was definitely a thrill to all be sitting around the table together after another successful year of projects.  Our deepest thanks go to Erik Rowberg, Habari Node Managing Director, Gilbert Maeda, head of Arusha Node Marie, and District Executive Director Dr. Charles Wilson Mahera for their partnership.  We truly appreciate their fantastic support!
The week culminated Saturday morning with Super User Review training.  We welcomed our entire Arusha Super User team to Enyoito Secondary School, who graciously hosted the event.  Thanks go to David, our Reneal School Liaison, for coordinating everything for the gathering.  Neal was the speaker for most of the training, reviewing the Super User tasks and how to troubleshoot problems.  However the highlight of the meeting was a visit by District Executive Director Dr. Mahera.  He took time out of his busy day to meet with the Reneal Super Users, encouraging all of us to continue our quest to bring computers and technology to the students of Arusha.  He offered his help in finding training opportunities, in removing obstacles, and even in training the Super Users himself!  We are grateful to have the support of someone who is so committed to STEM and ICT.
Later in the afternoon, David and Mr. Hezron from Oldadai Secondary School came to Lutheran Centre so Neal could show them some of the features of the new 16.04 system and how to rebuild a server.  It was a very useful time for all of us, and we also had a good discussion about 2018.  But poor Neal was pretty exhausted by the end of the day! 
Sunday Neal made final touches on the software, finished configuring some emergency servers, and got the server rebuild disk (mostly) completed.  There's one more program to write, but he'll finish that at home and send it to the folks here.  We transferred parts and equipment over to David.  Now our room at the Lutheran Centre for the first time seems empty!  Mr. Sanga from UAACC will pick up the UPS for their computer lab this morning.  Otherwise we only have two boxes left in the room for getting our clothes and tools back home.  It's really a wonderful feeling to be leaving so much behind.
Next week will bring a wrap-up and also a full run-down of acknowledgments for what turned out to be a fantastic trip.  But suffice it to say, we hope to be back next year!
 [Photos: Super Users Review Training, with a visit by DED Dr. Mahera]