Shop 'til you drop [2017-04-04]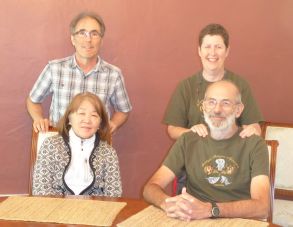 It's probably not the first time I've used this title for a blog post.  As engineers, Neal and I have never really stoked the consumer flames much by buying nice clothes or shoes or fancy cars.  However we do seem to do our share in purchases of computer equipment!  Although the Tanzania trip is still almost five months away, we are now in the throes of pre-trip shopping: I am making lists and Neal is checking sales at NewEgg.  We have some personal travel coming up but once we're back from that, the boxes will start flowing toward Reneal headquarters.
The Reneal Board of Directors met Saturday, and the plans for the coming months were discussed and approved.  We've also had further meetings with The School Fund folks, Judy and Denis Severson and Elizabeth Trueman, to nail down our joint plans with them.  We're targeting four new installations in Tanzania later this year, so Neal is selecting the parts for the four servers.  The server is the key to the Reneal system, so he looks for high reliability and adequate capacity for the number of clients we expect to have at each school.  I am stocking up on the needed packing and shipping materials: boxes, bubble wrap, and tape.  I will also soon be requesting a quote from a computer shop in Arusha for the items we buy in-country. 
Reneal School Liaison David Nyangaka has been coordinating installation of the video projectors purchased through a recent grant from the Danville/Sycamore Valley Rotary Club.  The projectors will be installed at three secondary schools in Arusha that have heavily-used Reneal systems installed.  We are so excited that the schools will have this wonderful new teaching capability!
Other than that, Neal is still working on his program to make student list preparation easier.  I plan to record a short video explaining the process once he's finished his work.  The teachers in the Philippines are in the midst of their usual blizzard of end-of-the-school-year paperwork, but we're expecting some computer lab moves during their summer break as new buildings get finished.  And we've already booked tickets for our return to Cebu next January!
[Photo: Judy and Denis Severson, The School Fund]