Magic! [2017-09-02]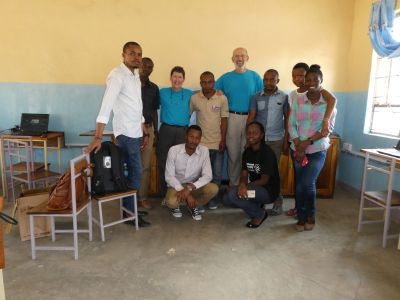 Week 1 in Tanzania has already flown by – it seems like just yesterday that we were anxiously packing gear and weighing boxes in preparation for our flight.  It's been a wonderful beginning to our work here, with the installation at Nduruma Secondary School already completed and one of our existing schools already visited.  While I always make up a schedule before a trip, it is miraculous that we have actually followed it so far!  But the magic must really be credited to so many people that have helped us: Reneal School Liaison David Nyangaka, the Headmaster and teachers at Nduruma Secondary School, Judy Severson from our partner NGO The School Fund Tanzania, Habari Node and Arusha Node Marie, and folks at the Lutheran Centre in Arusha where we are staying.
Our flight departed from San Francisco at 2 p.m. on August 24th.  At 9 a.m. that morning, Reneal board members Justin Thompson and Priscilla Batty and colleague Rick Blank showed up to get Neal and me and about 600 pounds of equipment to the airport: 10 boxes and 6 bags.  There were some raised eyebrows at the KLM ticket counter, but we got everything checked in smoothly.  Our flights from SF to Amsterdam and from Amsterdam to Tanzania were right on time, and we were absolutely overjoyed to find all of our boxes and bags waiting for us in baggage claim after we got through the long visa line.  More raised eyebrows at airport customs, but David was allowed to come in and explain our mission to the customs agents.  The support of the Arusha District Council has been invaluable to Reneal, and we were allowed to enter with no customs charges for the donated equipment.  We got to the Lutheran Centre about 11 p.m. on August 25th, exhausted but happy.
Saturday morning we were up bright and early for a busy day.  David joined us to make the rounds to purchase equipment that we'd preordered here in Arusha: uninterruptible power supplies, motor-drive voltage regulators, electrical plug adapters, mice, keyboards, wire clamps, and network cable.  We also went to the bus stand in town to buy our bus tickets to Iringa.  Our friend Edward drives a taxi, so it was very efficient with his help.  We had all of the shopping finished by noon, at which point we met Judy and Alexandria of The School Fund Tanzania.   David, Judy, Alexandria, Neal, and I spent the afternoon at Mwandet Secondary School.  The School Fund Tanzania is considering a scholarship program at Mwandet, and they also wanted to see the Reneal computer lab (installed in 2014) at Mwandet.  Mwandet was also a recent recipient of a video projector thanks to a generous grant from the Danville Sycamore Valley Rotary Club, and we were thrilled to finally see that first-hand.  This joint Reneal/The School Fund Tanzania meeting was planned many months ago, and it was wonderful to have it come to fruition!
Sunday was a day to rest and to organize the mountain of gear for the coming weeks.  We were happy to be able to create a path to move about in our room at the Lutheran Centre!  Neal began testing the four servers that we brought with us.
Monday we made our first visit to an existing Reneal computer lab, this one at Enyoito Secondary School (installed in 2015).  We were joined by Mr. Evance Kessy of Arusha Node Marie, a very active philanthropic organization here in Arusha.  Enyoito Secondary School has been a very active lab and was also a Rotary video projector recipient.  It was thrilling to see the buzz in the computer lab, and it was a joy to reunite with Reneal Super Users Mr. Calvin and Mr. Mohamad again!  There are now two additional computer teachers there, Madam Agape and Madam Lucy.  We were happy to see the daily computer class schedule posted on the wall and know that the students are getting regular hands-on time in the computer lab.  With only 16 seats and large class sizes, it is a challenge for them but they have done a great job of letting all Form 1 (first year) high school students gain some exposure to computers.  We added one additional seat there and hope that we can add more next year.
Tuesday through Thursday we were at Nduruma Secondary School for a new installation.  David had helped them prepare, so everything was ready upon our arrival.  We were also incredibly blessed to have five volunteer networking professionals from Habari Node join us on Tuesday to put in all of the network cables.  They do tremendous work, and the lab looks incredible!  In just a few short hours we went from empty tables and bare walls to a fully functioning computer lab!  Mr. Evance from Arusha Node Marie and Mr. Frank from the Arusha District Council were there as well.  Nduruma (and David) had arranged transportation for our team.  Nduruma is about an hour from the main part of town on a very bumpy, dusty road, and we were very thankful to have an experienced dala-dala (van) driver to take us there and back each day.
Neal spent Wednesday with the computer teachers, Mr. Samwel and Mr. Benard.  They are great!  Neal taught them how to take care of the system and how to troubleshoot any problems.  On Thursday we had teacher orientation training to share some of the system features with all of the teachers at Nduruma.  It was a fun session, with lots of energy.  We were particularly pleased that the Headmaster, Mr. Mgina, joined the group for the orientation.  We are excited to see how they will use the system to benefit the students in the coming years!  We came away from Nduruma grateful for the partnership that we have forged with them.
Yesterday was a holiday here, unexpected for us but a good day to work here in our room.  Neal is finalizing the installation process for the server software (an update to the process he created two years ago), and I tried to fix a couple of laptops from Mwandet.  By combining parts, I got one unit working.  This morning we picked up a few more items (a couple of surge protectors, more adapters, and another power strip) and are spending the rest of the day working again.  Tomorrow will be much the same before we return to Mwandet Secondary School on Monday for our technical visit.  We plan to visit all eight of the existing Reneal computer labs in Arusha during our time here.
My next post will find us in Iringa, where we will be supporting The School Fund Tanzania to install Reneal systems in two schools.  Mr. Amos, the COO of The School Fund Tanzania in Iringa, came by Thursday morning to take the Reneal equipment to Iringa, which will greatly simplify our bus journey.  We are excited to experience a new area in Tanzania and to work with the teachers there to serve the students at Iringa Girls' School and Ebenezer Secondary School.  After months of purchasing and planning and packing, it is absolutely thrilling to be here at last in the schools!
[Photos: students using the computer at Enyoito Secondary school; Habari Node, Arusha Node Marie, and computer teachers at Nduruma Secondary School]