Closer each day [2017-08-11]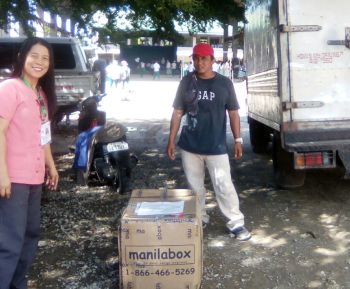 The nearer our departure date gets, the faster time seems to fly.  Neal has a few more tweaks of the server software to make, but I've already tested much of it and it's very close to final.  Then he'll burn the hard disks with the image and we'll be ready to pack.  One other wonderful piece of news this week was that the fabric donated by my former co-worker Jennifer Robles and her sewing club arrived at schools in the Philippines.  The happy looks on their faces says it all!
We are nearly done with the software for the stand-alone computers that our partner, The School Fund (www.theschoolfund.org), will be deploying at several schools in Tanzania.  Neal has prepared an Ubuntu stand-alone image with a user interface similar to the server.  I've been putting together a set of programs that can be installed on Windows machines, along with an installation procedure.  We also worked with Mr. Amos, our TSF contact in Iringa, to resolve some questions about the laptops purchased from World Computer Exchange (www.worldcomputerexchange.org).  Timothy Anderson, president of WCE, graciously provided us with some extra computer parts to take with us for any needed repairs.  And it's also a good time to acknowledge again two critical donors to Reneal: Polycom (www.polycom.com) and Free Geek (www.freegeek.org) who are making this work in Tanzania possible for us!
Trip preparation is always stressful, but we're looking forward to the payoff of being in Tanzania again and opening up the world of technology to more students and teachers!