2017 Tanzania Wrap-up [2017-10-10]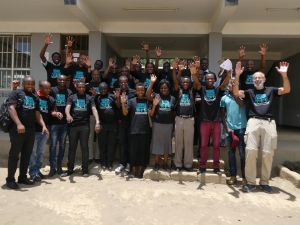 Neal and I are home again following our time in Tanzania.  It is bittersweet, as always: good to be home but missing our dear friends now so far away.  The trip turned out well, with computer lab installations in two new schools in Arusha, visits to the existing eight computer labs, and the joint work with The School Fund Tanzania.  But this business is much more than getting computers into schools.  More importantly, it seemed this time that our team has turned a corner in getting students' hands on computers in Arusha. 
Reneal deployed four servers and 52 laptops on this trip, the latter thanks to the amazing generosity of Polycom Corporation.  We set up full computer labs at two new schools in Arusha and got all eight existing labs in Arusha back to full strength through repair or replacement of non-operational equipment.  In partnership with The School Fund, we also installed Reneal servers at two schools in Iringa that had client computers.  Reneal total costs (including the value of the donated equipment and shipping) were about $11,500.  We are so grateful to our donors that help make this work possible!
More significant to Reneal though was the cultural change we observed with respect to ICT education in Arusha.  This is due mainly to the efforts of Reneal School Liaison David Nyangaka and the Arusha District Council.  During our last visit to Arusha in 2015, we observed that computer labs were sitting empty much of the time because of the over-constrained school timetable.  Through David's continued advocacy, most schools now have ICT classes in their weekly schedule and students are expected to sit for the National Examination in ICT.  It is amazing progress since our last visit in 2015, and we only expect this to improve.  In one of the highlights of this trip, Arusha District Council Executive Director Dr. Charles Wilson Mahera devoted his precious time to speaking to all of the computer teachers who were gathered at the Reneal Super User Training.  He emphasized the Tanzania National Government's commitment to ICT and encouraged the computer teachers to give maximum hands-on computer time to the students at their schools.  In addition, he pointed out the major value of getting more teachers into the lab – both for their own research and for teaching students in other subject areas using ICT.  He promised to break down barriers within and outside of the schools to help them in this quest.  The teachers (and us!) were inspired by his support and encouragement.  In 2015, Reneal was questioning the future of its mission in Tanzania – now, we are already planning our return in 2018!
I can't end without acknowledging our amazing partners in Arusha – we couldn't have done this work without them!  Back in 2014, Reneal, Habari Node, Arusha Node Marie, and the Arusha District Council signed a formal collaboration agreement in support of ICT education for students at public secondary schools in Arusha. Three years later, we are still in action together!  
Reneal is so grateful to the professionals of Habari Node for installing the network cabling in the new computer labs at Nduruma Secondary School and Mateves Secondary School. Thanks to Africana Patrick Massawe, Jane Langoi, Sebastian Kyagara, Prosister John, Living Macha, and Sarah Adamson for their expertise and dedication. Thanks also to Habari Node Managing Director Erik Rowberg for his on-going commitment to the collaboration.
Evance Classic of Arusha Node Marie worked side-by-side with Reneal as we installed the two new computer labs and visited the the eight existing computer labs in Arusha. "Same place, same time, American time!" was our slogan, and it was a real joy to have his help and watch his tech skills grow.
Reneal is indebted to the Arusha District Council for their never-ending help. Frank Laiser was there at both new installations to make sure things ran smoothly. And Reneal School Liaison David Nyangaka worked constantly to ensure that this year's projects were executed successfully. We are excited to see how the students' knowledge of computers and technology grows in the coming year!
[Photos: Arusha Super Users]